Environmental Books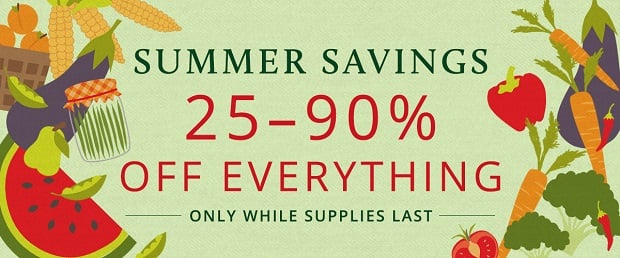 How Much Will You Save?


Now through September 7th we're having our End of Summer Sale to make room for our forthcoming fall releases!

You have five chances to save — 25%, 50%, 75%, and 90% off — on our new and bestselling books, as well as old favorites. But hurry, it is only while supplies last.
---

Save 25% on this new release! But hurry - the discount is only for a limited time.
from: Chelsea Green Publishing



---

"Toby Hemenway is among the true visionaries who can turn vision into practical action. The Permaculture City is a landmark book that will be used for decades as a compass and field guide to regenerate our world and communities.This is the gospel of building resilience from the ground up, and Toby is a true hero of our age—he shows us we're all invited to the party." —Kenny Ausubel, cofounder and CEO of Bioneers

---

The Permaculture City



As more people flock to urban areas to live, nowhere are the empowering principles of permaculture more needed and desired.

In his latest book, bestselling permaculture author Toby Hemenway demonstrates that the same nature-based approach that connects the pieces of our landscape together in harmonious ways applies perfectly to our need for water, shelter, food, energy, livelihood, and community.

In The Permaculture City, Hemenway moves beyond urban gardening and offers readers practical tips as well as examples from around the country of how people are using permaculture principles to live more sustainably and build deeper connections in urban areas. Understanding nature can do more than improve how we grow, produce, or consume things; it can also teach us how to cooperate, make decisions, and arrive at good solutions.



---





Read a Q&A with Toby Hemenway about The Permaculture City




---
The Forest Garden Greenhouse



How to Design and Manage an Indoor Permaculture Oasis

In this groundbreaking book, Jerome Osentowski, presents a wholly new approach to a very old horticultural subject. He shows how bringing the forest garden indoors is not only possible, but doable on unlikely terrain and in cold climates. Different from other books on greenhouse design and management, this book advocates for an indoor agriculture using permaculture design concepts—integration, multi-functions, perennials, and polycultures—that take season extension into new and important territory.
---
Need More? New Releases & Coming Soon!